COVID 19 DISINFECTIONS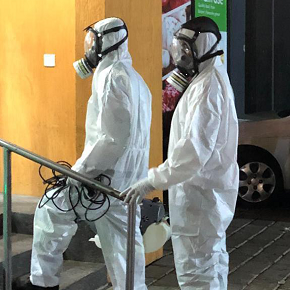 COVID-19 has now surfaced in Ghana and there's the need for institutions and individuals, to disinfect their properties from this deadly Virus. Contact Jem Intercontinental Services for clean Microbial Disinfection against coronavirus (covid-19) and other viruses and bacteria in Ghana. We disinfect offices, government facilities, residential households and communities, offshore vessels, factory buildings, among others.
Aside our regular Pest Control Activities described, which targets insects, reptiles, rodents and other creeping and crawling pests, we have decided to notch up our activities by introducing total microbial disinfection of residences, factories, and office premises as well as vehicles and all other areas that could serve as transmission points for the spread of the COVID -19. We have studied the current global and local Ghanaian situation regarding the outbreak of the Coronavirus in Ghana very carefully have decided to play our part to fight the menace and prevent many more people from becoming infected with the virus.
We have the equipment, disinfectants, trained personnel, and technical know-how to effectively execute disinfection operations at any premises that need preventive treatment against the menace of the virus and other microbes and pathogens
Keep your facilities and properties clean from any viral infection such as the coronavirus (covid-19) in Ghana by Contacting Jem Intercontinental Services for disinfection activities. Call us now on 020 811 6038.